NZ coded PLBs, trusted by adventurers
Our GPS-enabled PLBs are ready to signal for help, ensuring quick, accurate rescues. Our NZ coded options offer direct contact with NZ local search and rescue.
Have questions? Scroll down for a complete guide on PLBs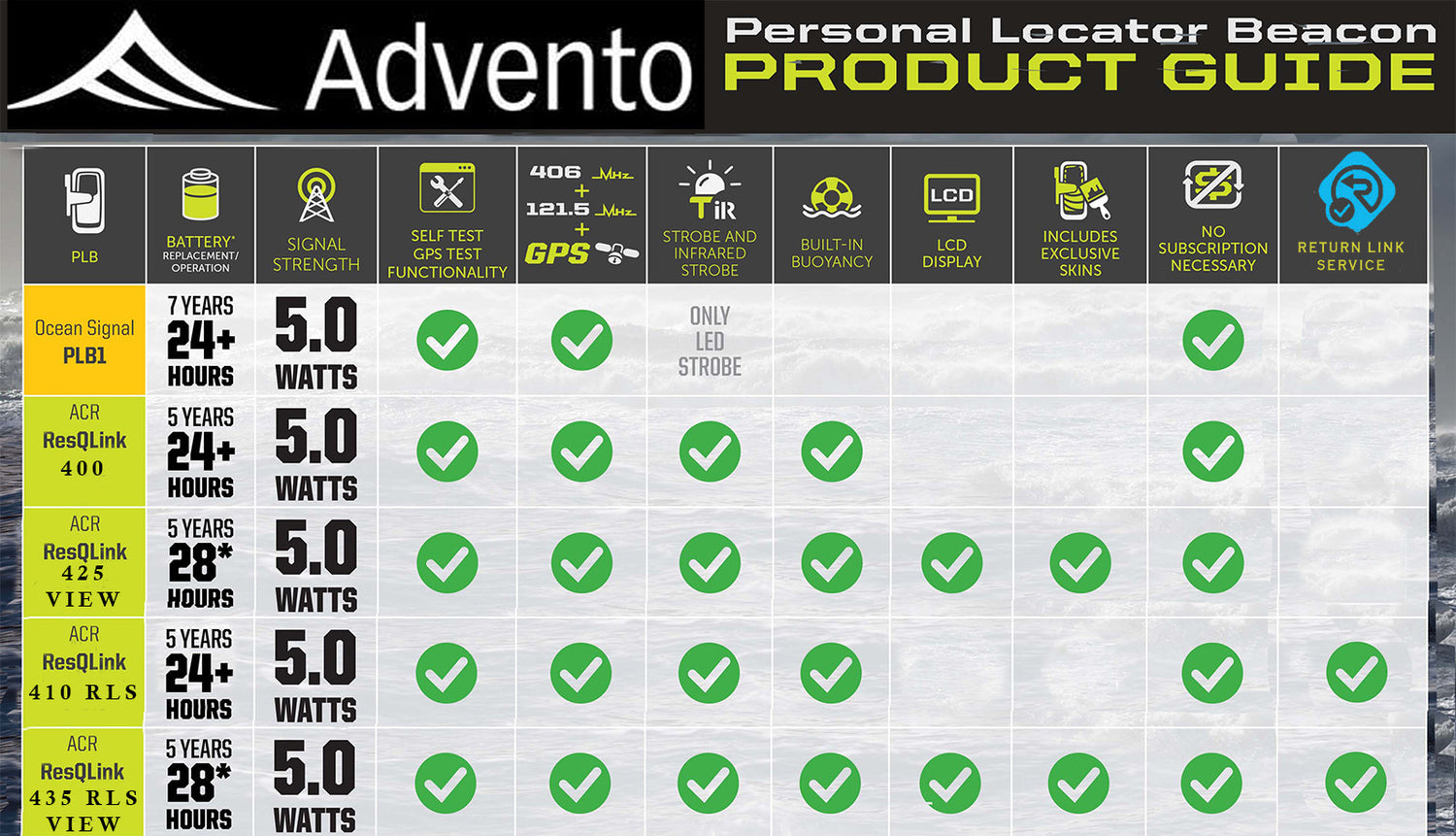 Frequently Asked Questions About Personal Locator Beacons in New Zealand
Welcome to our comprehensive Answers to PLB Questions

Advento is dedicated to resolving your inquiries about Personal Locator Beacons (PLBs)—your essential companions for New Zealand's great outdoors. Whether you're setting sail, trekking across rugged terrains, or diving into any escapade, your safety is paramount. This FAQ section has been curated with the adventurer in mind, offering insights into the critical role of PLBs. Here you'll discover the answers to commonly asked questions that illustrate the indispensable nature of PLBs and how they stand as your silent sentinel in times of crisis. Let's explore these fundamental safety beacons that, while they may not shine with allure, serve as the staunch defenders of your outdoor ventures.
By equipping yourself with the right knowledge and a Personal Locator Beacon, you are one step ahead in ensuring a safer adventure. Should you have more specific queries or require assistance, Contact Us our team is ready to support your safe explorations across New Zealand's breathtaking landscapes and waterways.

Why should I carry a Personal Locator Beacon in New Zealand?

When you're out in the New Zealand wilderness, or if you're heading into marine areas, it's essential to have a reliable means of emergency communication. Mobile phone coverage can be spotty or non-existent in remote areas, so a PLB is a recommended safety tool. They can be a critical link to rescue services when you're out of mobile phone range.
What should Iknow if I'm buying a second-hand beacon?

Make sure any second-hand beacon you purchase is New Zealand coded and that its battery is not expired. You should register the beacon under your name and provide your distress contacts with all the trip details.
Can I use my Australian coded beacon in New Zealand?

New Zealand only registers beacons that are coded for New Zealand and some Pacific regions. For Australian-coded beacons, you'll need to register with the Australian Maritime Safety Authority (AMSA) or get your beacon recoded to a New Zealand code.
If I move overseas, what should I do with my New Zealand registered beacon?

You can take your beacon overseas and maintain your New Zealand registration. However, if you're relocating long-term and your emergency contacts will be in your new country, it's best to recode and register your beacon there.
Can I Rent a Personal Locator Beacon (PLB) for My Outdoor Activities in New Zealand?

Absolutely! For those who aren't looking to buy, there is cost-effective Personal Locator Beacon rental service that ensures your safety, whether you're trekking, cycling, hunting, or fishing.


Through a partnership with the Southland Locator Beacon Charitable Trust, known for competitive rental pricing, you have access to approximately 90 beacon hire locations nationwide. From well-known retailers like Macpac to convenient i-SITE Visitor Centres, selected outdoor gear shops, and even service stations, obtaining a PLB for your next excursion is easy and affordable.


Here's a quick glance at the hire rates:
• 1-Day Rental: $15 (Our minimum hire period)
• 3-Day Rental: $30 (Just $10 per day)
• 1-Week Rental: $40 (An economical rate of $5.71 per day)
• 2-Week Rental: $70 (Our best value at $5.00 per day)
• Extended Rental: Add $30 for each additional week
• Long-Term Discount: Enjoy a 20% discount on any hire exceeding $100


By renting a PLB, you're investing in your safety and peace of mind. The flexible hiring options ensure that whether your adventures are brief or extended, you're always covered. Visit the rental page

Who is the Southland Locator Beacon Charitable Trust?
The Southland Locator Beacon Charitable Trust (SLB) was formed in 1996 by a passionate group of people, who recognised the need for a Personal Locator Beacon hire service for the thousands of people who enjoy our great outdoors every year. SLB was the first company to be accepted by Search and Rescue as the standard to achieve when supplying emergency Personal Locator Beacons and they are the preferred supplier of emergency Personal Locator Beacons for The Rescue Coordination Centre New Zealand (RCCNZ) and LandSAR.

What is the protocol for borrowing or lending a beacon?

You can lend your beacon to others as long as the registration remains in your name. Ensure that your emergency contacts are informed about the borrower's trip details and intentions.
Is a PLB necessary for every boat, regardless of size?

Yes, all vessels should carry a 406 MHz distress beacon. PLBs are suitable for smaller craft, such as kayaks and canoes, while EPIRBs are recommended for going offshore. Depending on your boat size, you can choose between manual and automatic release brackets.
Can a PLB really make a difference for activities like boating, hiking, or fishing?

Absolutely. PLBs and EPIRBs provide peace of mind for both you and your loved ones. They ensure that, in case of any life-threatening emergencies – be it medical issues, natural encounters, or accidents – you have a direct link to rescue services.
Will I have topay subscription fees for using a PLB?

No, one of the great benefits of 406 MHz beacons is that they do not require a subscription service. They operate through government-run satellites and are linked directly to Search and Rescue services. The only requirement is to register your beacon, which is a free service.
What should I do if I haven't been able to contact a friend or family member who may have a beacon?

If you have genuine fears for their safety and have reasons to believe they are missing, you should report them to your local police in person, providing as much information as possible including their trip plans, which can be crucial for a successful search and rescue operation.
I want toregister my New Zealand coded beacon

You can register and manage your beacon registrations by creating an account with
maritime New Zealand / Rescue Coordination Centre New Zealand (RCCNZ)

https://beacons.org.nz/create-your-account/

Beacon or Registration Enquiries       

contact.beacons@maritimenz.govt.nz


Ph 0800 406 111
Beacon Carrying and Installation

For effective use and quick
deployment, always ensure your beacon is within reach. To maintain safety and
functionality, adhere to the following precautions:

Position the beacon clear of any equipment that could unintentionally engage the activation switch.
Avoid placing the beacon near magnetic sources such as microphones or speakers, as some models use magnetic switches for activation.
Protect the beacon from exposure to high water pressure.
Store the beacon beyond the reach of children to prevent accidental activation.
Steer clear of electric fences which may interfere with beacon operation.

For Vessels:

If your Emergency Position Indicating Radio Beacon (EPIRB) includes a mounting bracket, it should be installed in a location that is both visible and accessible during emergencies. For EPIRBs with a magnet-activated switch, ensure the magnets are aligned correctly.
Keep your EPIRB dry and securely stored when the vessel is unattended.
For vessels equipped with a float-free EPIRB, it should be installed in a manner that allows it to float away and activate should the vessel sink.
Consider storing an additional beacon within an inflatable life raft for added security.

For Personal Use:

It is recommended to carry your Personal Locator Beacon (PLB) in a pouch on your body instead of keeping it in a backpack to ensure it remains with you if you are separated from your gear. When traveling by vehicle, the PLB should be kept in the glove box or a similarly accessible place until you exit the vehicle, after which it should be carried with you.
Beacon Servicing and Battery Replacement

is it possible to replace the batteries in my EPIRB or PLB by myself?

No, self-replacement of batteries in your beacon is not authorized. Battery replacement and servicing should only be performed by the manufacturer's approved service centers to ensure that your beacon remains compliant with the Australian/New Zealand standard 4280.1
(EPIRB) and 4280.2 (PLB). Unauthorized replacements could lead to non-compliance issues and potential failure of the beacon during an emergency situation. It's imperative to adhere to these standards to meet Maritime or
Civil Aviation Authority regulations for carriage requirements.

Remember, it is not only about
maintaining the functionality of your PLB but also about ensuring that it meets
the legal requirements and safety standards. Your safety and compliance with the law are paramount, which is why we strongly advocate for professional servicing and battery replacement.

Who is qualified
to service or replace the battery in my Personal Locator Beacon (PLB)?

Only certified service centers listed by the beacon manufacturers are authorized to handle the servicing and battery replacement of your beacon. They will conduct a comprehensive maintenance
check, including a physical integrity inspection, watertightness pressure test,
signal functionality check, and replacement of seals, O-rings, and the battery itself. It's also their responsibility to dispose of the old battery in an
environmentally friendly manner.

 

Manufacturers and
Authorized Service Centers:

 

GME: Contact GME Auckland at 09 274 0955

McMurdo/Orolia: Reach out to Absolute Marine at 09 273 9273

Kannad/McMurdo/Orolia: Get in touch with Aviation Safety at
07 543 0075

ACR/Artex: Wilco Marine Services is available at 09 308
9165

Ocean Signal: Lusty & Blundell can be contacted at 09
415 8303

KTI: For service inquiries, visit KTI Australia's
website or request contact details.

Always schedule your service before your battery's expiry to
ensure uninterrupted safety device performance.
How long do beacon batteries last, and what should I do when they expire?

Beacon batteries typically have a lifespan ranging from 5 to 10 years, depending on the make and model. The expiry date is clearly indicated on the beacon itself. Before the battery reaches its expiry date:

Contact the beacon's Manufacturer to arrange a battery replacement and servicing.

Alternatively, consider purchasing a new GPS-enabled distress beacon.

It's crucial to use batteries provided by the original manufacturer to guarantee optimal functionality. Using
third-party batteries can render the beacon non-compliant under New Zealand law and may lead to malfunctions.
Under what circumstances can I activate my Personal Locator Beacon (PLB)?

A PLB should be activated in situations where you are in serious distress or in imminent danger, and there is no other means of communication available. This includes getting lost in the wilderness, experiencing a medical emergency, or being in a life-threatening situation.
If I require Search and Rescue services after activating my beacon, will I be responsible for any costs?

No, individuals rescued by Search and Rescue services in New Zealand are not charged for these operations. These services are funded by various government agencies, including the Police, to ensure the safety of both locals and visitors engaging in outdoor activities. However, if there is clear evidence of recklessness, charges and cost recovery efforts may be pursued by the authorities.
The Ambulance or Police services have asked me to activate my beacon. Should I do so even if Ihave cell phone service?

Yes, you should activate your beacon if directed by Ambulance or Police personnel. This helps them coordinate with Rescue Coordination Centers to pinpoint your location quickly and accurately, facilitating a timely and effective response.
What should I do if I accidentally activate my beacon?

If your beacon has been activated accidentally, it is essential to immediately inform the Rescue Coordination Centre New Zealand (RCCNZ) by calling 24-hour emergency numbers:

New Zealand (toll free):
0508 4 RCCNZ or 0508 472 269

Calling from outside New Zealand:
+64 4 577 8030

Keep the beacon switched on until you receive instructions to turn it off. Do not worry about penalties; there is no fee for accidental activation.
What are the consequences of activating an unregistered beacon?

Activating an unregistered beacon can result in a delayed response. Unregistered beacons require Rescue Coordination Centre New Zealand (RCCNZ) to perform additional checks to confirm the distress signal is genuine. To avoid delays in an emergency, it is strongly recommended to register your beacon.
Will I incur anycharges if I activate my beacon for an actual rescue situation?

Absolutely not. In New Zealand, the activation of your beacon for rescue purposes is a service that is provided free of charge. The focus is on ensuring the safety and well-being of individuals in distress without the concern of financial burden.
Why is it important to select a 406MHz distressbeacon in New Zealand?

A 406MHz distress beacon is the standard for Search and Rescue (SAR) services globally and is recommended for use in New Zealand's outdoor environments. These beacons are designed to work with the international SAR system, providing accurate and swift distress signal transmission, which is essential when you're in a potentially life-threatening situation.
What is the difference between a satellite tracking device and a 406MHz distress beacon?

Satellite tracking devices, while useful for letting friends and family know your location, do not directly communicate with the international SAR system. In contrast, a 406MHz distress beacon sends an immediate distress signal to SAR authorities, ensuring a faster and more reliable emergency response.
Why should I choose a New Zealand-coded PLB?

A New Zealand-coded PLB ensures that in an emergency, your distress signal is directed to local SAR authorities, speeding up the response time. This coding aligns with New Zealand's specific SAR operations and terrain, which can be critical in a rescue scenario.
What features should I look for when purchasing a beacon?

By understanding these critical differences and features, you can make an informed decision on the right beacon for your needs. Remember, whether you're on the water or in the wild, carrying the appropriate 406MHz distress beacon is not just a regulatory compliance, it's a commitment to your safety and well-being.
When selecting a beacon, prioritize models with a built-in GPS as this greatly assists in relaying your precise location. Other features to consider are the battery life, buoyancy, whether they float upright in water, and additional features such as strobe lights for increased visibility.

What are the different types of 406MHz distress beacons available?

Emergency Locator Transmitters (ELTs):
Used in aircraft, designed to automatically activate after a crash.

Emergency Position-Indicating Radio Beacons (EPIRBs):
Intended for maritime use, can be manual or water-activated, and some models float free if a vessel sinks.

Personal Locator Beacons (PLB):
Portable for individual use in various environments, these are manually activated.

How do I decide between an EPIRB and a PLB?

Choose an EPIRB for dedicated maritime use, to meet safety regulations, or if you need a device with an extensive battery lifespan and are consistently using the same vessel. Opt for a PLB if you require a versatile and compact device for individual use across different settings, such as multiple vessels or on land.
Why are EPIRBs and PLBs required under maritime safety regulations?

Certain vessels in New Zealand must carry an EPIRB to meet maritime safety regulations. These devices are crucial for quickly alerting SAR services to your location in the event of an emergency at sea.
What are the advantages of EPIRBs?

EPIRBs are specifically engineered for maritime environments, are buoyant, and some can self-activate upon immersion. With a longer battery life, they are designed to be fixed to a vessel, ensuring they are always on board and ready in an emergency.

What are the benefits of PLBs?

PLBs are individual safety devices that are small and portable, making them ideal for a variety of outdoor activities beyond just maritime use. They are registered to the individual, ensuring personalized tracking in a rescue scenario.
What about Spot or inReach compared to a dedicated PLB device?

A satellite communicator can also work if

You are 100% sure that there is reception throughout your route,
You are careful to preserve the battery life, and
You are careful to keep your account in good order. Plus with the inReach you can communicate the details of your situation.


But this is a compromise - a PLB is a much more powerful and reliable device for calling in Search and Rescue, and once it's purchased and registered there is no ongoing account to worry about. For communicators, the rescue functions are a secondary add-on.
In a larger group setting, it's advisable to have both a Personal Locator Beacon (PLB) and an inReach device when venturing into New Zealand's backcountry. For journeys into remote areas such as Fiordland or the Southern Alps, carrying a satellite phone could be a wise precaution. But if you're only carrying one device, the PLB is the way to go when rescue is your priority.